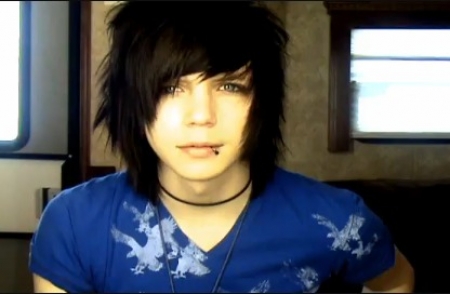 Andy six (Andrew Dennis Biersack) is the lead vocalist for the American post-hardcore band "Black Veil Brides" who has released their debut Album "heart of fire" on July 20, 2015, which sold in all of North America. Andy Six (Biersack) formed this band at the age of 14 in his hometown Cincinnati, Ohio. He currently is living in Hollywood, California. Biersack does not have a Facebook, but he does have two myspace pages and a Twitter.
Andy Six is currently in a relationship with Juliet Simms, and he is an Atheist. He attended the school of Creative & Performing Arts Hi in Cincinnati, Ohio, He majored in Drama and minored in Music - Vocal. He is 189cm tall (6"2) and was Born on December 26th 1990.
Andy Six was bullied as a teenager because he dressed as an emo with black hair and decided to lose weight at 13. In the video for 'Knives and Pens' it shows what Andy went through when he was at school. He was called a 'fag' and told to kill himself. The lyrics of 'Knives and Pens' are about the fact that if some people are being bullied because of how they act and dress they turn to harming themselves or others but the others (including Andy whos love was writing) used other things to help them cope.
He is currently dating Scout Taylor- Compton again and they have no children. Black Veil Brides released their new summer album "Set The World On Fire" June 14, 2011. The CD featured 11 tracks. The Pre-Order version of this CD, has one bonus track, named 'Smoke & Mirrors.'
Black Veil Brides were recently in Japan on tour when the earthquake struck. They were sound checking at the time and luckily the tsunami was further north so they were not affected. They continued to play the show that night for the fans that had been able to make it. Later that day Andy posted on his myspace and twitter, 'Most terrifying experience of my life.'